The prefabricated bailey steel bridge is a truss beam composed of bailey frame, which is mostly connected by flower Windows and then fixed with bolts. Precast Bailey steel bridge is convenient and fast to use, and it is used in engineering construction, such as the gantry crane, the construction platform, engineering sidewalk bridge, etc.
Bailey bridge originated in Britain, is the British Donald bay engineer invented in 1938 during the second world war, our country in the early 1960s began to produce prefabricated highway steel bridge 321-type bailey bridge, it is characterized by simple structure, light components, convenient transportation, but also has large carrying capacity, structural rigidity, long fatigue life, mainly used in military transportation, rescue and disaster relief, national defense construction, water conservancy engineering, road traffic and other fields.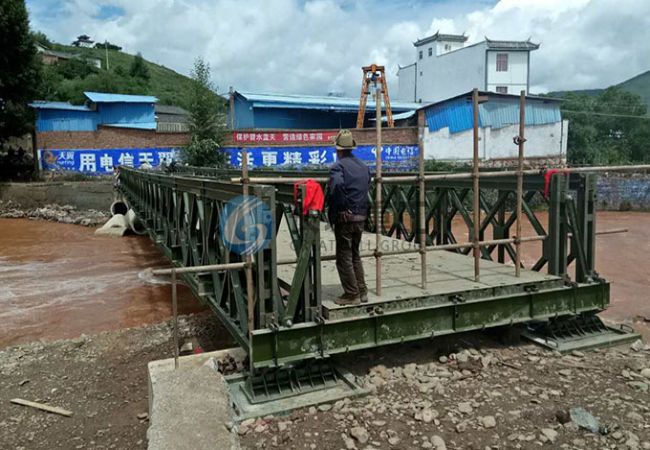 The steel structure component of bailey panels, bailey sheet is prone to rust products, especially in the coastal areas, it is more prone to rust, so the steel bridge should be often maintained to avoid rust. Once the corrosion will inevitably reduce the carrying capacity and service life of the steel bridge, so the timely rust removal and paint maintenance is an important link to ensure the life of the bridge, must not be ignored.
In order to prevent the corrosion of the bailey steel bridge, the engineer shall carefully check the various parts of each part of the steel bridge for the paint loss, rust and component deformation during the maintenance. To the corroded part, strict requirements for workers to first dust, oil, rust spots and all kinds of dirt to clean up, and then spray paint, paint uniform, paint surface flat, never leakage spray. If any component deformation is found, the shell sheet shall be replaced to ensure the continued safe use of the steel bridge.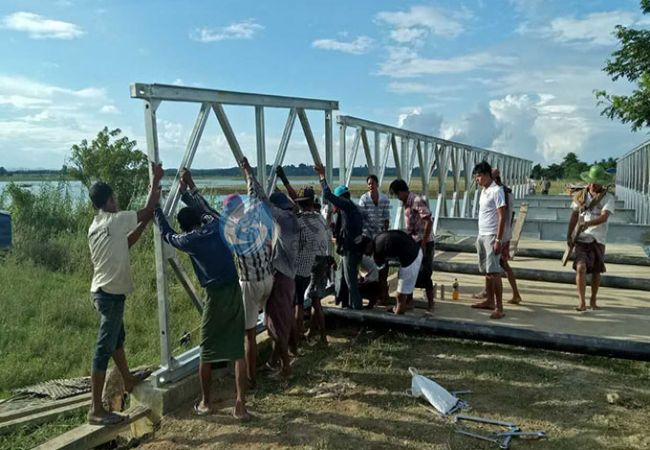 For more information, please pay attention to Zhenjiang Great Wall Heavy Industry Technology Co., LTD
Located in Jiangsu Province, China, Great Wall Group mainly produces prefabricated steel bridges and has a complete production line of all accessories for the whole bridge, with an annual output of more than 10,000 tons. The company has enjoyed the cooperation with China Communications Group, China Railway Group, Power Construction Group, Gezhouba Group, CNOOC and other large central government affiliated enterprises in railway, highway, international government procurement and other projects, and also actively supports charitable undertakings. Adhering to the corporate tenet of "being an industry quality benchmark, based on China, and going to the world", in the future development, we will continue to take quality as the foundation of survival, adhere to independent innovation, overcome difficulties, and provide global users with safer, high-quality products and more professional and intimate services.
---
Post time: Nov-03-2022