Bailey Bridge is a truss beam made of Bailey panels. Bailey panels have flower Windows as the connecting members and are fixed with bolts. Because of the rapid erection and strong mobility, it is mostly used to build simple bridges in wartime, and now it is mostly used for engineering construction, such as the gantry crane, the construction platform, construction road bridge, etc.
Bailey bridge, also known as prefabricated steel convenience bridge, its main structure includes bailey panels, beam, bridge deck unit, pin, insurance plug pin, strengthening the string rod, support frame and so on. When the bailey patch enters the field, the inspection shall be organized one by the piece. The distortion and deformation shall not be used, the plug connection shall be adjusted, strengthened or replaced, and the corrosion of the bailey patch shall be removed. The serious corrosion shall not be used, and welded and strengthen the individual nodes.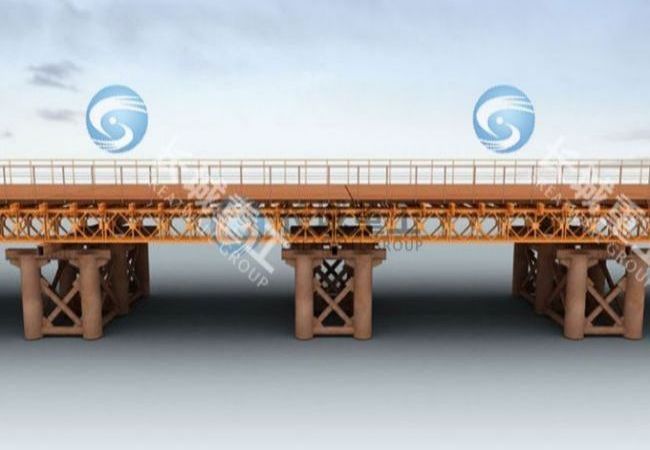 The bearing capacity of Bailey Bridge is very high, and because the material is steel, its structure is also relatively large in stiffness, good durability and long service life. Considering all its many advantages, the Bailey frame is often formed into different spans, different types, different uses of the temporary bridge, or as an emergency bridge, will be often used in the military, is China's combat readiness highway bridge. The bridge was invented by a British engineer who, in World War II, was used in British strategic attacks. Up to now, the scope of the application has gradually increased, many countries in the basis of the continuous improvement, and applied to some civil bridges.
Zhenjiang Great Wall Heavy Industry Technology Co., Ltd. has a professional team and equipment design and production of Bailey Bridge. Our factory has a complete line of Bailey Bridge accessories. Our products have passed the certification of authoritative third-party laboratories such as China National Accreditation Council, Swiss General Notary Bank, German Technical Supervision Association, French Classification Society and other laboratories, and meet the domestic and international standards such as China JTG D60, EU EN10025, EN1090, American ASTM, AASHTO, Australian AS5100 and so on. In the future development, we adhere to the "do industry quality benchmark, based on China, to the world" enterprise purpose, will as always take quality as the survival, adhere to independent innovation, overcome difficulties, to provide customers with safe, high-quality products and professional, intimate service.
---
Post time: Oct-13-2022