At the end of September 2022, the 42.672 meters compact-200 heavy Bailey Bridge undertaken by Zhenjiang Great Wall Heavy Industry Technology Co., Ltd. was successfully erected in Davao, Philippines. The bridge carries a load of 60 tons and is assembled in four rows of single layers. The main bridge is 4.2 meters wide and is a standard single-lane structure.
The main component of Bailey panel consists of truss piece, truss connecting pin, support frame and truss bolt. Each piece of Bailey truss piece is mainly connected by truss and support frame, and the whole truss piece is assembled by the re piece through the end connection pin.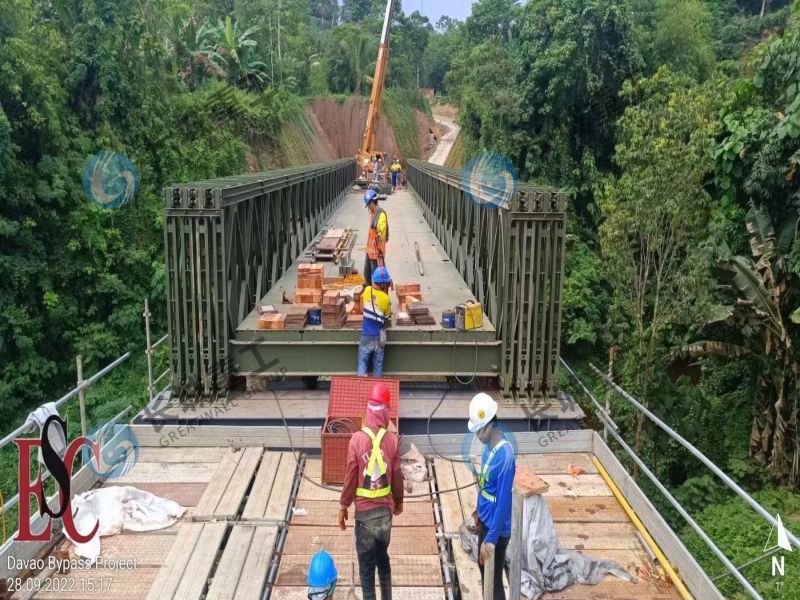 Bailey truss not only has simple structure, fast light, strong adaptability, combination structure system is better, interchangeability, easy assembly, and its span and column height are adjustable, to adapt to different work sites, widely used in highway, railway, municipal, construction, water conservancy and other construction projects, bridge construction prefabricated lifting prefabricated components, bridge pier transport girder site construction operations. Mainly used for cast-in-place and construction of the bridge, cost-effective.
The steel structure component of Pele sheet steel bridge is easy to rust products. The best way to extend the service life of the bridge is to do a good job in ordinary maintenance work. In order to prevent the corrosion of Pele steel bridge, we should often carry out a daily maintenance and maintenance of the steel bridge. Therefore, regular rust painting maintenance of Bailey steel bridge, is an important link to ensure the life of the bridge, must not be underestimated.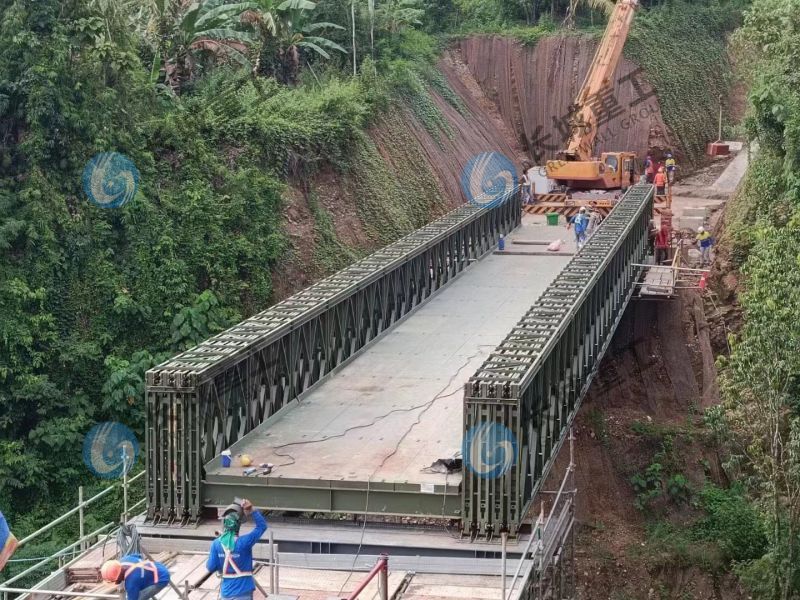 To the corroded parts, strict requirements for the workers will first be the dust, oil, rust spots and all kinds of dirt to clean up, and then spray paint, paint uniform, paint surface flat, never leakage spray. If any component deformation is found, the shell sheet shall be replaced to ensure the continued safe use of the steel bridge.
Our Great Wall Group is a leading manufacturer of steel bridge structure and Bailey bridge parts in China. The company integrates design, manufacturing and export, with a complete set of production lines for Bailey Steel Bridge, strict quality control system and experienced technology. Great Wall Heavy Industry plans production in strict accordance with the customer needs and requirements, and strive to do better, strict with every process, do every detail, every link quality passes, with the construction of high-quality projects as the goal, do excellence.
---
Post time: Oct-05-2022