Great Wall is a leading company in the field of structural engineering. Their expertise extends far beyond the traditional field of architecture, and they are renowned for cutting-edge technology and innovative design solutions. One of their standout products is the Bailey Bridge, a modular bridge system that is used all over the world. In this blog post, we'll take a closer look at the Great Wall Bailey Bridge and explore what makes it such a unique and reliable solution.
What is Bailey Bridge?
The Bailey Bridge is a modular steel bridge composed of prefabricated elements. These components can be assembled quickly and easily, making the bridge ideal for use in emergency situations or as temporary structures. Designed to be easily transported and assembled, the Bailey Bridge can be used to span a variety of gaps, including rivers, canals and rail lines.
Great Wall Bailey Bridge: Quality and Innovation
At Great Wall, quality is everything. The company has passed the ISO quality management system certification, demonstrating their commitment to excellence. That's why their Bailey Bridges are built to the highest standards and undergo rigorous testing to ensure their reliability and durability.
In addition to quality standards, Great Wall is also known for its innovative engineering methods. They have a number of independent research and development patents, and their engineer team is constantly working hard to improve and perfect their products. This is evident in their Bailey Bridge design, which has been optimized to be as light and durable as possible.
Quality Control: A Top Priority
At Great Wall, quality control is the top priority. Their production process is closely monitored to ensure that every component of their Bailey Bridges is manufactured to the highest standards. This includes everything from the raw materials used in production to the finished goods shipped to customers.
To ensure its products meet these high standards, Great Wall's WPS and welding machines have been certified by BV. In addition, their finished products are recognized by international third-party testing agencies such as SGS, CCIC, and CNAS. This gives customers peace of mind knowing that they are receiving not only an innovative product, but also reliable and safe.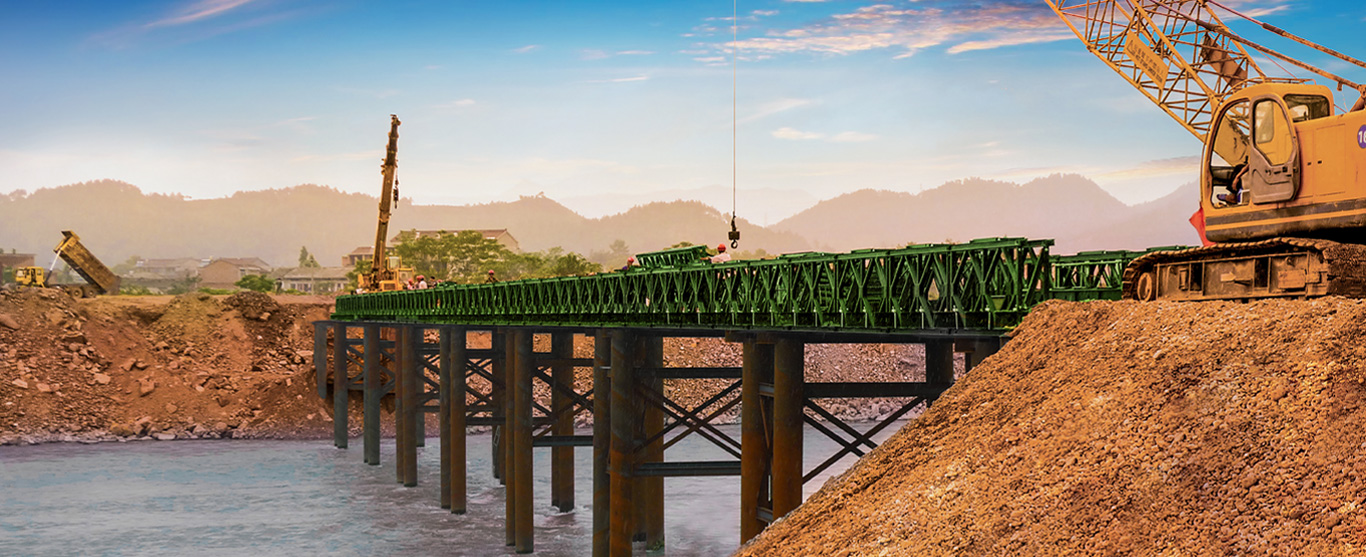 Application of Bailey Bridge
Due to its unique modular design, Bailey Bridge has a wide range of applications. It can be used in a variety of situations, including:
- Emergency relief work: Bailey Bridge is often used in disaster areas or in situations of infrastructure disruption.
- Military Operations: The bridge's fast assembly time and durability make it ideal for military operations where mobility and flexibility are key.
- Infrastructure projects: The Bailey Bridge can also be used as a temporary solution in infrastructure projects, it can be quickly assembled and used to bridge gaps when building a permanent bridge.
Benefits of Bailey Bridge
The Bailey Bridge offers several advantages over traditional bridge solutions. These benefits include:
- EASY ASSEMBLY: Bailey Bridge's prefabricated components make it easy to assemble in a short time.
- Versatility: The bridge can be used to span gaps of all types and sizes.
- Cost-effective: Bailey bridges are often a more cost-effective solution than traditional bridge construction.
- Durable: Great Wall's Bailey Bridge is built to last, with a design optimized for weight and durability.
The Great Wall Bailey Bridge is a testament to the company's commitment to quality and innovation. With its modular design and easy assembly, it has become the solution of choice for emergency relief efforts, military operations and temporary infrastructure projects. Great Wall's dedication to quality control and innovation has made Bailey Bridges one of the most reliable and durable products on the market today, and it's no wonder they've become such a popular choice with customers around the world.
---
Post time: Apr-19-2023